Baie-Saint-Paul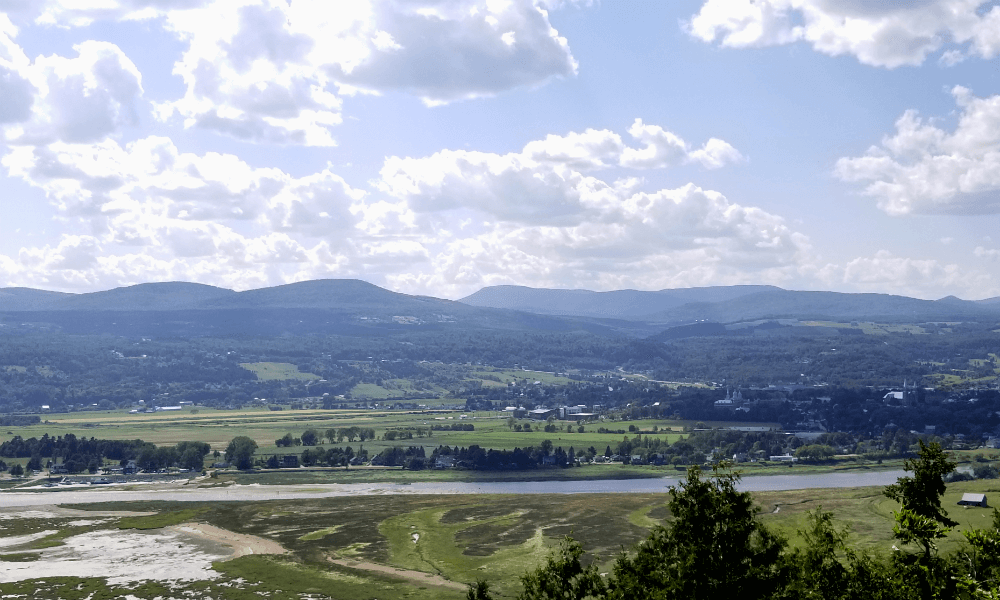 In our previous post, we described our great 850-kilometre journey from Ontario to Baie-Saint-Paul. In this post, we will continue our story.
We arrived as planned around 3 pm. After the short break, we decided that it wouldn't be too bad to have some food. First, we thought to get some snacks and later have a proper dinner at the proper time. But then we decided – screw the rules! We are hungry, let's go eat! We searched for the address, this is what you need the Wi-Fi password for, punched it in the GPS and drove away to explore what local restaurants are capable of. Very exciting!
In any town, the majority of popular restaurants, pubs and coffee shops are concentrated in the downtown area. Baie-Saint-Paul is no exception. But the high density of popular places creates a very common problem – a lack of free parking spots. We ended up parking our car two blocks away from the destination point. But after almost eight hours of driving, walking didn't feel like too much of exercise.
Le Saint-Pub
We arrived at the entrance of the restaurant Saint-Pub, MicroBrasserie Charlevoix just in time. Literally a few minutes later, a huge lineup appeared out of nowhere. "Bonjour!" a young blond waitress welcomed us and asked something else in French. "Bonjour," said we and froze with smiles on our faces. The pause was quite long and awkward and we started smiling wider and wider.  Oh, Lord, that sweet girl came to the rescue. "Do you speak English?", asked she. "Yes! We do speak English! Thank you!" almost yelled we. You cannot even imagine how happy we were. After a few embarrassing minutes,  we, finally, got the table, cold beer and a menu written in both languages. Now we could relax.
Let's start with beer. MicroBrasserie produces a great variety of Belgian style beers which are sold throughout Quebec and in several states. We've got a chance to taste a few of them and we liked them all. We are not beer specialists and are not very good at describing the taste of beer. But we would recommend their "Dominus Vobiscum" Blanche and "Vache Folle" Milk Stout.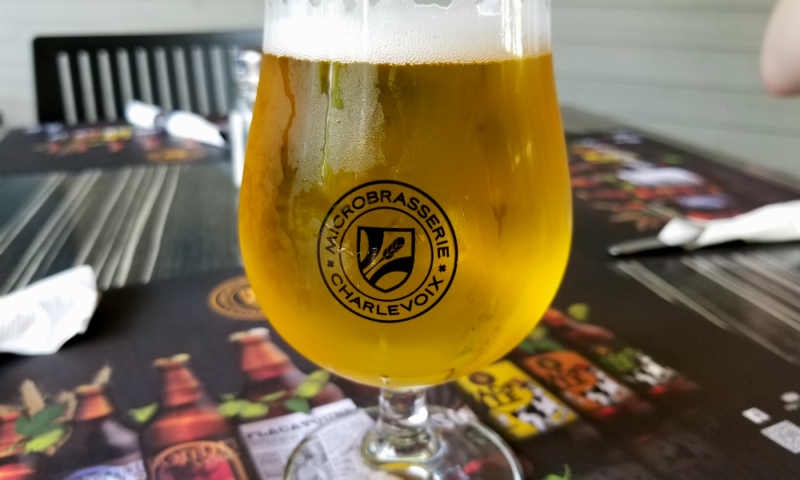 Since we were in Quebec could I resist trying the local poutine? Of course, I couldn't. La poutine Saint-Pub "Lendemain De Veille", homemade fries, ground beef, peppers, onions, mushrooms, cheese curds and beer sauce was my choice. Trust me, it tastes even better than looks. And cheese… Lots of cheese!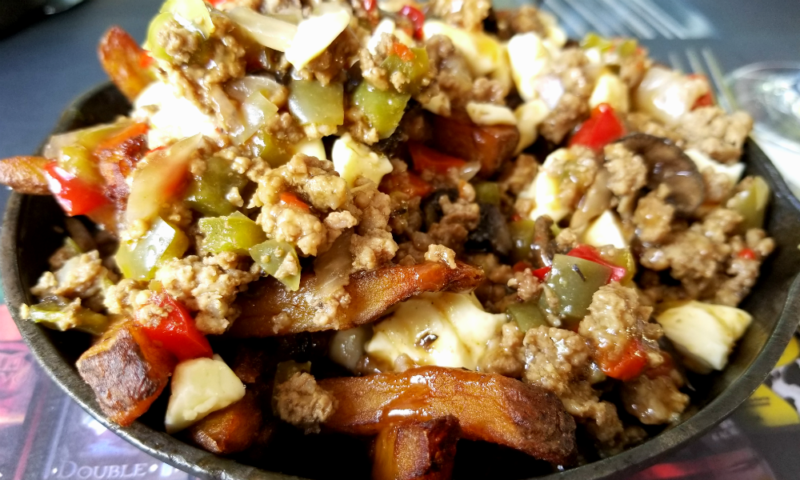 After this nice lunch/dinner we felt like we need a break before we could proceed with dessert. So we went for a walk.
Rue Saint Jean Baptiste
The restaurant Saint-Pub is located on the corner of Rue Racine and Rue Saint Jean Baptiste. By the size of the crowd of relaxed people gliding back and forth, you can guess that Rue Saint Jean Baptiste is the main street.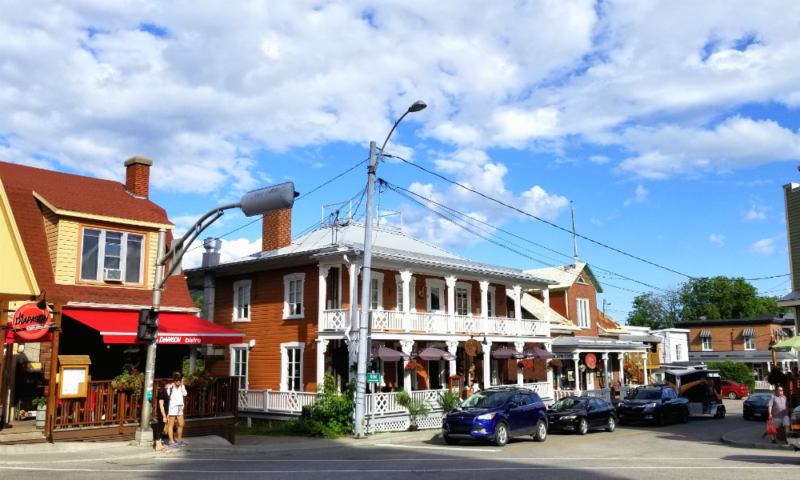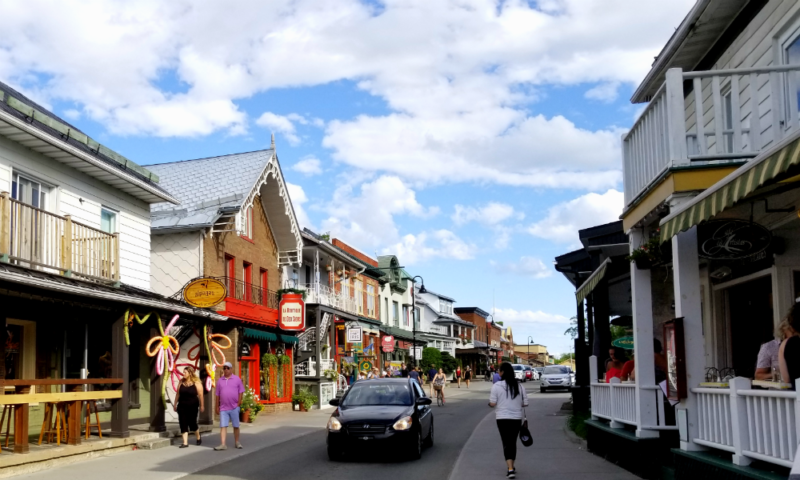 We joined the flow on one side of the street and walked almost to Rue Forget, then we crossed the street and slowly carried ourselves in the opposite direction up to the Rue Ambroise Fafard. What I can say, cute, cute and very cute. The sidewalks are spotlessly clean, the buildings are nicely painted. Little shops and boutiques look so pretty that I was stopping almost at every single one of them to take a picture.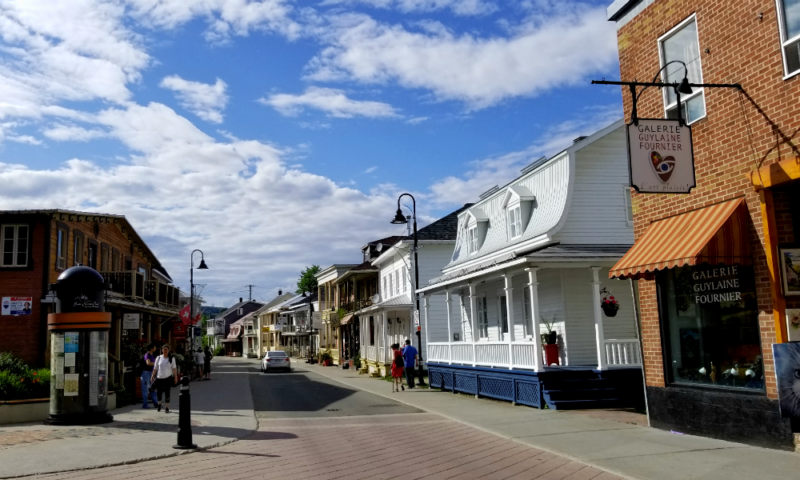 As I mentioned before these cute places sell a lot of very cute stuff. It is very important to stick to your budget and remember – you cannot buy everything you see unless you are filthy rich.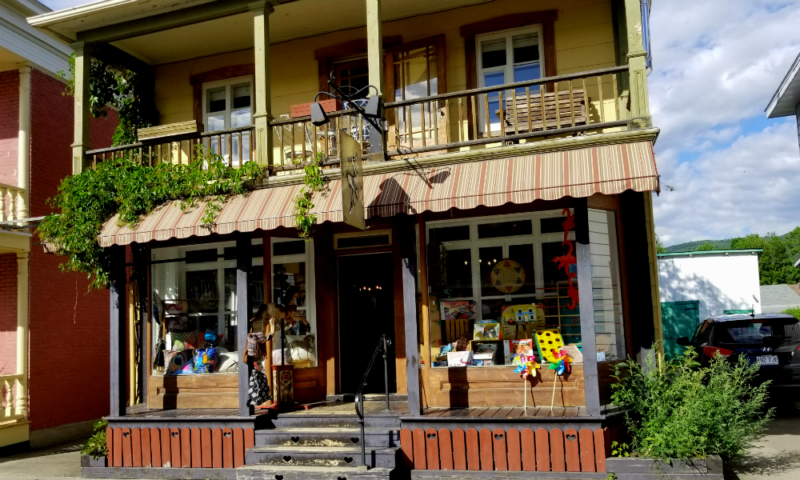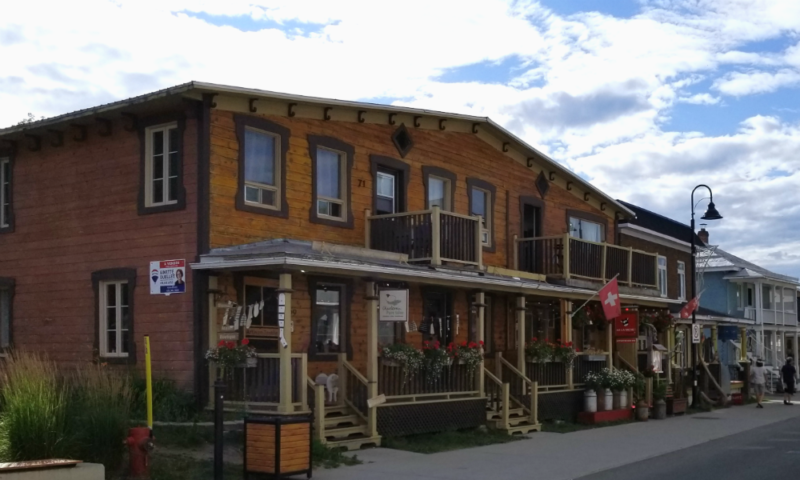 And also, if you are planning to have a dessert keep in mind that coffee shops and bakeries are getting closed at 6 pm. We realised this at quarter to six and had to rush into the Cafe Aromes et Saveurs to get something sweet we could consume quietly in the hotel room.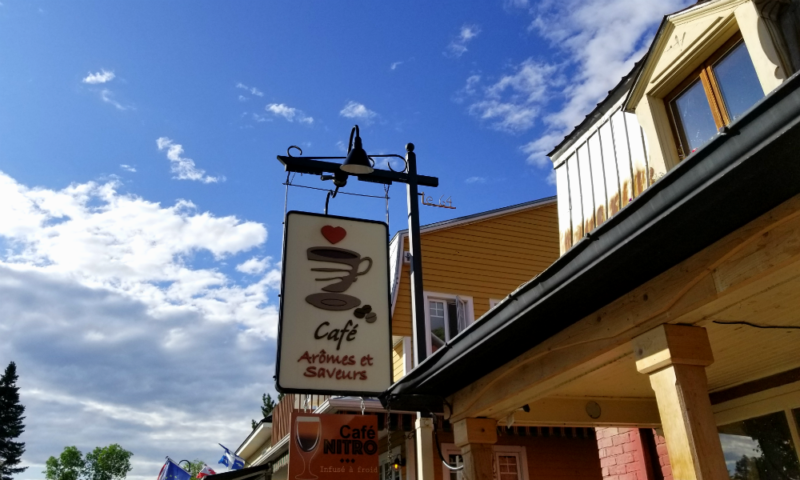 If you have never been to heaven, try their Tarte au Chocolat. This is really something. I do not remember the last time I enjoyed a dessert that much. And they serve the best coffee in town.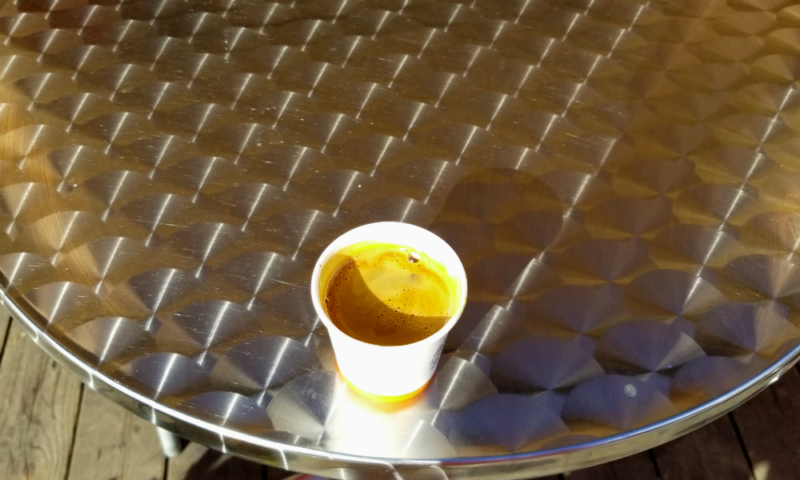 Back in The Hotel
In the hotel, our daughter decided that the break without YouTube was way too long and she needs to get her daily portion of videos urgently. We, meanwhile, decided to explore the area around our hotel. As I mentioned before, Maison de la Rive is located in a very nice residential area. There is a cute boutique next to the hotel and one block down the road – a small church. The rest of the buildings are houses. And of course, not just any houses but very pretty ones. And in addition, all this cuteness is resting on the shore of magnificent St Lawerence river.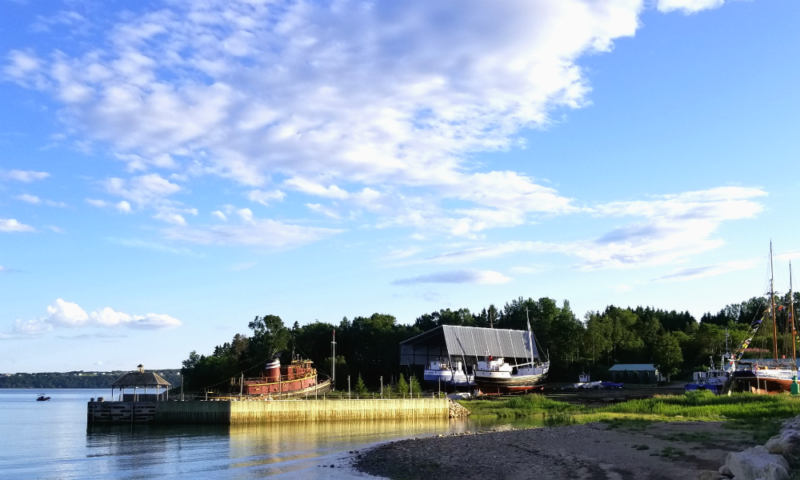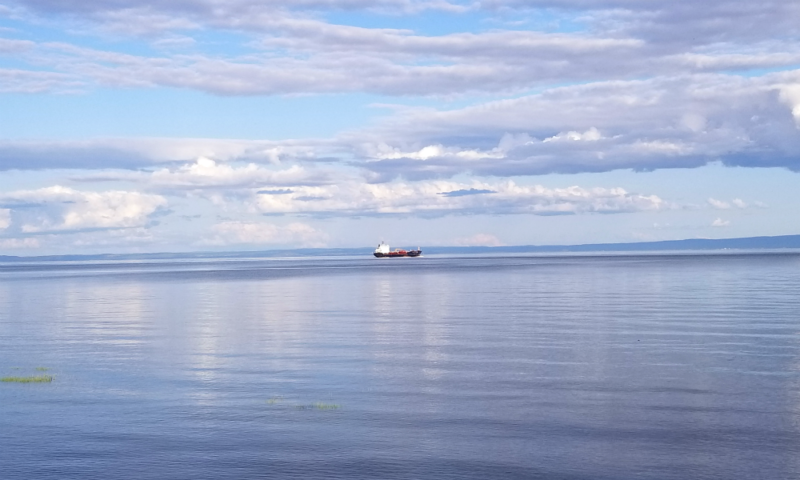 We walked along the Rue des Saules staring shamelessly at the houses. And we noticed one very interesting detail – it was very quiet. And not just because of the low traffic but also because these houses do not have A/C. Walking down a residential street in Oshawa, for example, can be compared to walking in some busy industrial area. And here – no noise, so nice. There was no A/C in the hotel as well and we didn't feel it at all. The air would cool down at night and having a window open in the room and a ceiling fan running was enough. That night we slept like babies.
Our first day in Quebec was over. We will tell you about day two in our next post.
---