Where To Buy A Christmas Tree in GTA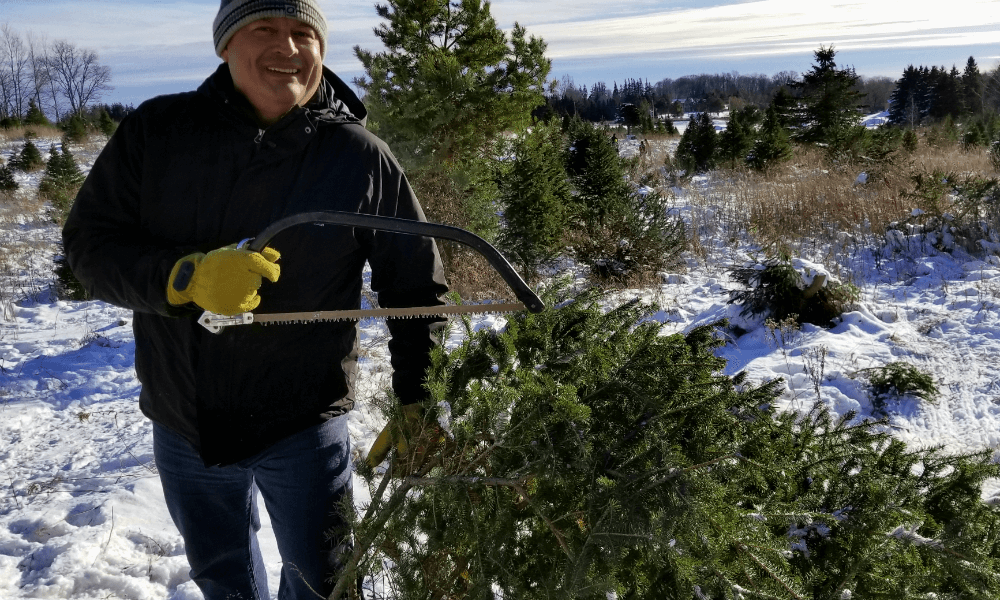 We don't like artificial Christmas trees. We had one for some time and mostly because we had a carpet in our living room. Cleaning pine needles from the carpet never sounded attractive to any of us. Once the carpet had been replaced with laminate we started buying real trees for Christmas. And we prefer to select and cut the tree ourselves. Going to the farm to get a Christmas tree became a very important family event, much like having hot chocolate after.
If you feel like you're fed up with your artificial Christmas tree and this year you would like to get a fresh real one, here are some tips and suggestions for you:
You will not necessarily find what you are looking for right away. Always select a few locations to visit.
Dress up properly. You will have to walk around in snow or dirt depending on the weather.
Don't forget that it's getting dark early this time of year. Plan your trip accordingly.
You don't need to bring your own tools, they are usually provided at the farm.
Cash only. All the farms we've gone to take cash only. Last year, an average tree would cost you $60 – $70. This year, perhaps, the price will be the same or maybe a bit higher. Plus, keep in mind that coffee, hot chocolate and sweets are offered in most locations, so have an extra $20 just in case.
And, of course, have a good plan for how you will be bringing your tree home. Tarp and rope may be very handy.
Okay, now seems like you are ready. Hopefully, you will enjoy this little adventure as much as we do. Below is a list of farms for different regions of the GTA.
Durham
Prestonvale Tree Farms
1421 Prestonvale Rd, Courtice, ON L1E 2P       prestonvaletreefarms.com
Powell's Trees
2945 Durham Regional Rd 20, Bowmanville, ON L1C 3K6
Blackstock Tree Farm
4060 Mountjoy Rd, Blackstock, ON L0B 1B0
Cormack's Christmas Tree Farm
6119 Concession 3 Rd, Goodwood, ON L0C 1A0
Spademan Tree Farm
545 Regional Rd.21, Port Perry, ON L9L 1B5
Toronto- York
Horton Tree Farm
13953 Ninth Line, Whitchurch-Stouffville, ON L4A 7X3
Smalley's Christmas Trees
7259 Durham Regional Rd 30, Mount Albert, ON L0G 1M0
Tufford Family Tree Farm
5578 St Johns Side Rd, Whitchurch-Stouffville, ON L4A 7X4
MacPherson Christmas Tree Farm
17422 ON-48, Whitchurch-Stouffville, ON L4A 1Z1
Peel
Elliott Tree Farm
9467 Erin East Garafraxa Townline, Hillsburgh, ON N0B 1Z0
Wintersinger's Christmas Tree
5837 3 Line, Hillsburgh, ON N0B 1Z0
Evergreen Tree Farm
7811 Wellington 22, Guelph, ON N1H 6J2
Clembrook Christmas Farm
4231 Derry Rd W, Milton, ON L9T 2Y1
Halton
Chickadee Christmas Trees
6639 Wellington Road 34, Cambridge, ON N3C 2V4
Rinas Christmas Trees
1762 Concession Rd 6 W, Rockton, ON L0R 1X0
Spruce Meadows Christmas Trees
1952 Ainsley Rd, Hamilton, ON L0R 1L0
sprucemeadowschristmastrees.com
Merry Farms
1974 Concession 2 Rd W, Lynden, ON L0R 1T0
Andrew's Tree Farm
1865 Wilson St W, Jerseyville, ON L0R 1R0
---